Thursday, 4 February 2021 - 11:38am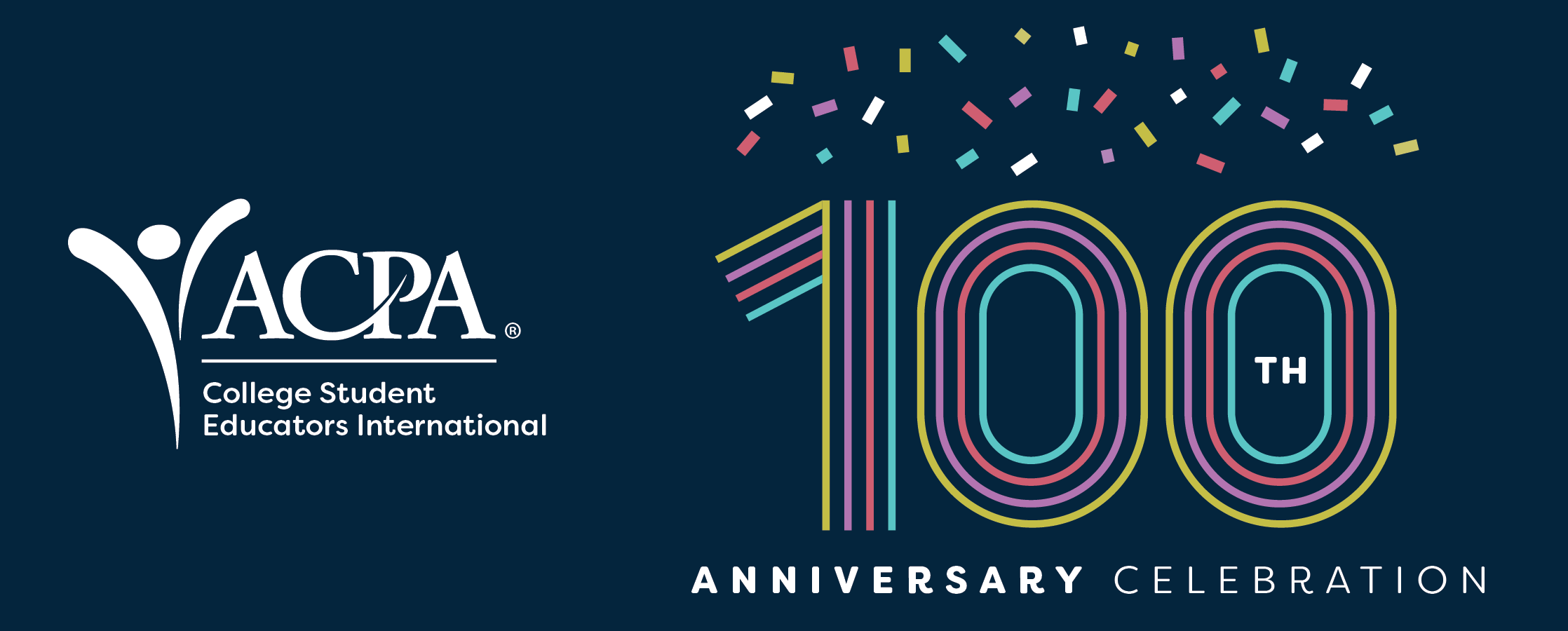 In the year 2024, ACPA-College Student Educators International will honor and celebrate 100 years of leadership in and service to the higher education and student affairs community. This is an opportunity to reflect on and acknowledge the history of our practice, scholarship, and advocacy while simultaneously anticipating the needs of higher and tertiary education and our profession to best serve students in the next 100 years. We invite members – past, present, and future – to join our efforts to continue our 100-year history of boldly transforming higher education by serving as a member of the ACPA at 100 Celebration Committee.
This Committee will be appointed by the 2021-22 ACPA President Danielle Morgan Acosta to research, plan, and implement the series of programs, events, multimedia, honors, resources, scholarship, etc. to be experienced by higher education community at the anniversary kickoff at the ACPA24 Convention in Chicago (March 17-20, 2024) and concluding on ACPA Day (October 21, 2024), the date recorded as ACPA's first meeting in 1924.
Members of the ACPA at 100 Celebration Committee should be able to commit to a three-year planning and implementation period (March 2021 through October 2024). Anticipated time commitment should be 1-2 hours per month from March 2021 through May 2023, with additional hours per month required for the final 18 months of planning. We are eager to include various identities and experiences within the Association on this Committee.
We are seeking applications from individuals to serve on the ACPA at 100 Celebration Steering Committee to lead the planning of our 100th anniversary activities. Steering Committee roles will include:
Co-Chairs (2) – Will lead and facilitate the meetings and actions of the Steering Committee and report to the ACPA President and Governing Board regularly on planning efforts. The Co-Chairs will be responsible for fulfillment of the Committee's charge and goals.
ACPA24 Convention Projects Coordinator (1) – Will lead the planning and implementation of any special events or other initiatives intended to occur at or during the ACPA24 Convention in Chicago, IL. Prior special events or convention planning experience preferred for this role.
2024 "Beyond Convention" Projects Coordinator (1) – Will lead the planning and implementation of any special events or other initiatives intended to occur between the ACPA24 Convention and ACPA Day 2024 to extend the anniversary celebration throughout the calendar year.
Awards and Commemorations Coordinator (1) – Will lead the planning and implementation of special recognitions or acknowledgements appropriate for the 100th anniversary. Works in close collaboration with the ACPA Awards Committee and the ACPA Foundation in supporting the overall recognition efforts for the Association during the 100th anniversary year.
Generativity Project Coordinator (1) – Will lead the planning and implementation of documenting the history of ACPA and the student affairs profession in video format directly from the voices, perspectives, and experiences of the trailblazing scholars, practitioners, and leaders of the field by curating and producing 2-3 new videos each year leading up to the 100th anniversary. Identify opportunities to incorporate existing and new pieces of this collection in honoring the 100th anniversary in special events, programming, marketing, etc.
ACPA in the 22nd Century Project Coordinator (1) – Will lead the Steering Team and Association in a series of feedback and imagining sessions about future opportunities and needs of ACPA and our members. Identify lessons and reflections from the Association's first 100 years to apply in visioning initiatives to guide the start of our next century of bold and transformative leadership in higher education.
National Student Affairs Archives Researcher (1) – Will support the Steering Committee by serving as primary liaison with the National Student Affairs Archives at Bowling Green State University. Coordinates documentation, research, and information requests for historical resources as a centralized liaison to the Archives.
Videography, Social Media, and Technology Coordinator (1) – Will support the Steering Committee by advising and coordinating the technology and communication components of planning and implementation efforts. Works closely with the International Office staff on web, database, and social media strategies in support of the Steering Committee's efforts.
Past Association Leader Engagement Coordinator (1) – Will lead communications and engagement strategies on behalf of the Steering Committee to the 100th Anniversary Celebration Honorary Chairs and other former Association leaders and members to encourage active participation in the ACPA24 Convention and other planned anniversary activities.
ACPA Anniversary Storytellers (4) – Will lead in researching, documenting, and sharing many of the ways ACPA has provided leadership in student affairs and higher education over the past 100 years along several key themes. The content and influence of these stories and histories will be used to shape the ways in which the Association honors our last 100 years and prepares for the next century. One person will be identified as lead researcher and storyteller for each of these main themes:
ACPA's Identities and Purposes in Higher Education (over time)

ACPA's Contributions to Research & Scholarship

ACPA's Contributions to Practice & Innovation

ACPA's Contributions to Equity, Inclusion, & Justice
Involvement & Communications Liaisons (6) – The Co-Chairs will work with existing ACPA groups to identify representatives to connect 100th anniversary planning efforts with various other Association activities. Individuals will specifically be appointed to serve as ACPA24 Convention Team liaison, ACPA Foundation liaison, Indigenous Advisor, ACPA Senior & Emerging Scholars liaison, ACPA entity groups liaison, and ACPA Publications liaison. We are not accepting applications at this time for these roles as they will be identified and appointed separate from this open call.
Finally, we recognize that many retired professionals or emerita faculty may wish to be connected to such a momentous occasion as ACPA's 100th anniversary yet may not have the time or resources to commit to being a part of the Steering Committee (although you are more than welcome and encouraged to let us know if and how you are interested). As an alternative, a cohort of Honorary 100th Anniversary Committee will be appointed to support the Steering Committee in being grounded in the breadth and depth of ACPA's histories. The Honorary Committee will likely be a wealth of information and knowledge about the history of various points in time in the Association's history. The Honorary Committee will be welcome to participate in Steering Committee meetings/calls as they are able but will not be asked to take on a particular part of the planning process.
APPLY TO SERVE ON THE COMMITTEE
Although we are still several years away from 2024, it is important that we take the time to remember, reflect, honor, preserve, and show the many ways we have learned and transformed in our history in shaping who we are in our present. We thrive today on the shoulders of the ancestors who came before us, and we want to ensure we take every opportunity to celebrate and remember.
We hope you will join us on our journey to ACPA's 100th Anniversary by applying for a Steering Committee role or letting us know if you are retired, but would like to be an Honorary Community member. And be sure to mark your calendar for the ACPA24 Convention in Chicago, IL from March 17-20, 2024!
Sincerely,
Danielle Morgan Acosta
Incoming 2021-22 President
ACPA Governing Board
Chris Moody
Executive Director
ACPA International Office