Friday, 11 September 2020 - 4:07pm
Phase 1 Implementation Opportunities for Member Involvement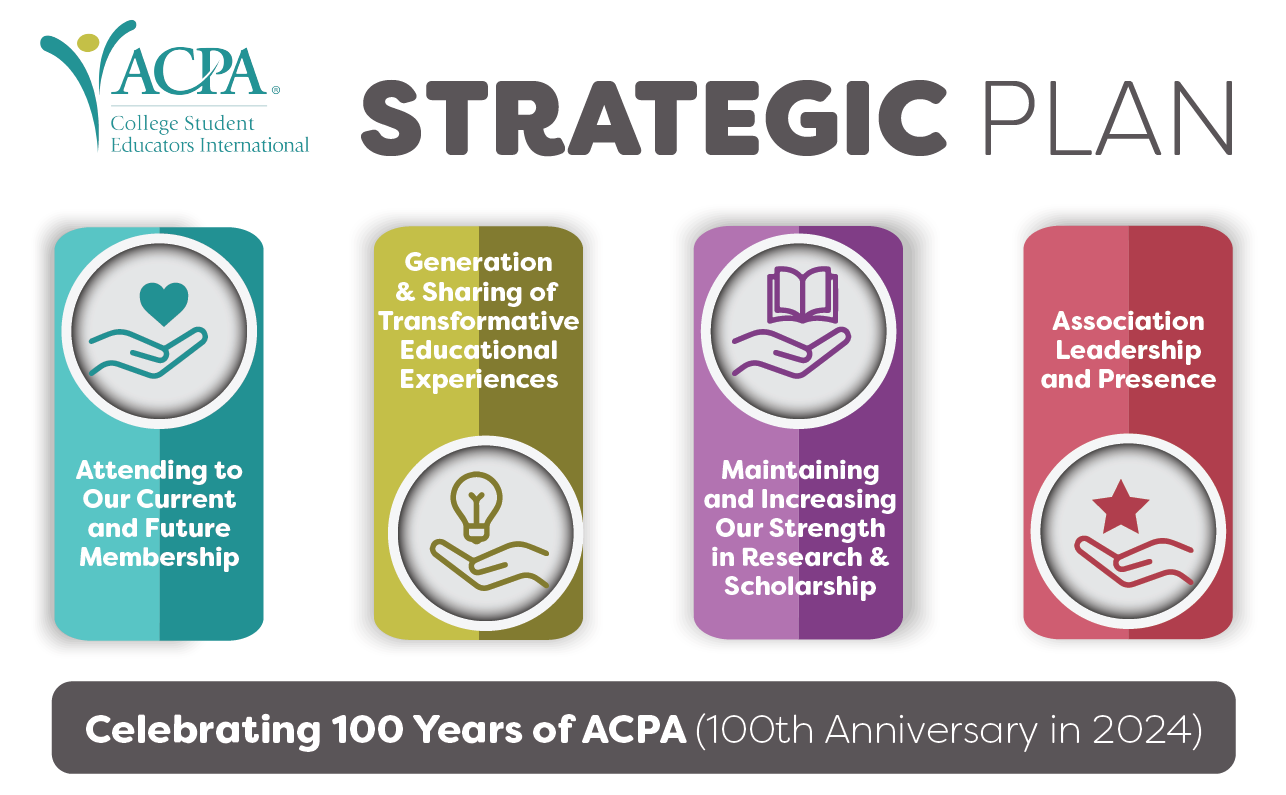 The ACPA Strategic Plan Implementation Committee seeks members interested in being involved in one (or more) of four projects of this phase of our work. Review the list of projects below and email us at info@acpa.nche.edu to get involved today (priority response deadline to express your interest is 2 October, 2020)!
Project 1: The Future of Job Search in Student Affairs Action Research Project
We know that in-person placement program participation and job yield rates are declining, and are concerned with the barriers that exist for job seekers seeking employment through on-site job fairs/placement exchanges. The job search and recruitment process may have been "seasonal" at one time, but the process has become more of a year-round endeavor. Employers and job seekers alike have suggested that student affairs needs a new recruitment model(s), one that better aligns with expressed values of the student affairs profession and the needs of 21st century job seekers and higher education institutions. Given ACPA's historic commitment to graduate students and new professionals and framed by the Strategic Imperative for Racial Justice & Decolonization, ACPA may be uniquely positioned to take the lead in identifying new guidance for student affairs recruitment practices. Following a series of stakeholder interviews, the next phase of this project is ready to commence and we are seeking members who would like to assist in advancing us from the exploratory phase and into the action phase.
Project 2: Expanding State and Regional Chapters
Several states and/or regions of the U.S. do not have ACPA Chapters, and we would like to grow the presence of our reach throughout the country. We are looking for leaders who want to be a part of developing a new state (or regional) Chapter, or revitalizing a former Chapter, specifically in these states:
Alabama, Alaska, Arkansas, Delaware, Florida, Hawaii, Idaho, Illinois, Indiana, Iowa, Kansas, Louisiana, Mississippi, Montana, Nebraska, Nevada, New Jersey, New Mexico, New York, North Dakota, Ohio, Oklahoma, Oregon, South Dakota, Tennessee, Texas, Utah, Virginia, Washington, West Virginia, Wisconsin, Wyoming
Project 3: Centralizing Research and Scholarship Funding and Opportunities
Grant funding and research awards are distributed across the association, with pockets of funding available in many places. While effective to have resources distributed and locally available to members, the decentralization of funds and processes may dilute the possibility of the Association offering big awards or grants possible that would boldly transform higher education in significant ways. Those who volunteer to assist with this strategic initiative will conduct a review of all funding sources available for research and scholarship across the Association and make recommendations for how to better maximize the potential of our research agendas.
Project 4: Decolonizing Association Structures
Many Association structures and systems are from decades of Western and colonized influence, and we would like to identify new models and ways of organizing our involvement and governance structures that rely less on notions of hierarchy and majority, which also serves to increase access for members to opportunities and leadership. This project will research and recommend other options for organizing our structures and opportunities. Individuals with experience with, knowledge of, or interest in community-based systems that focus on access, inclusion, and consensus are encouraged to volunteer.
Interested in helping with one or more of these projects? Email us today at info@acpa.nche.edu