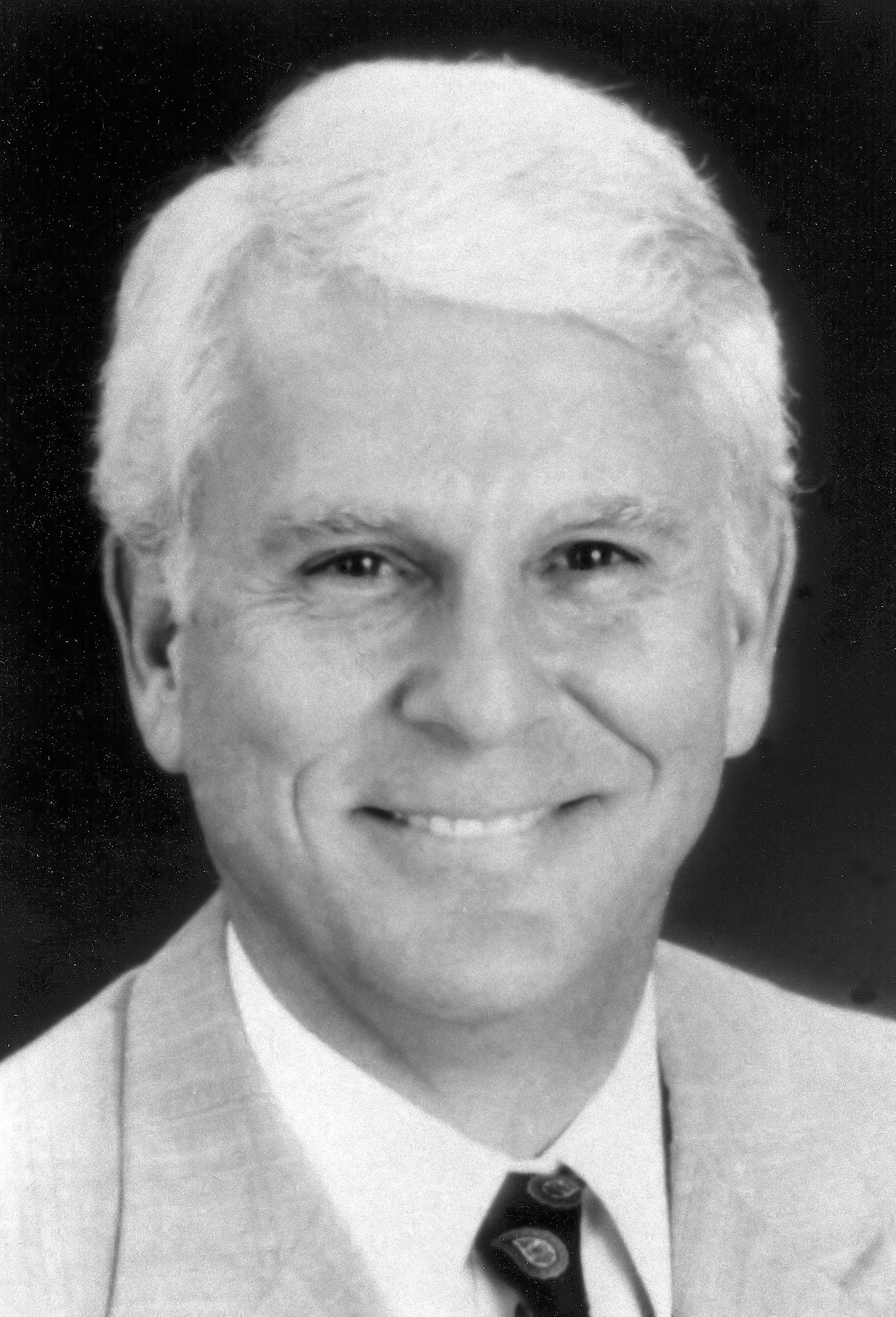 Forty-Fifth President
William A. (Bill) Bryan was listed on the slate of nominations for president-elect at the 1982 mid-year meeting of the Executive Council at the Alverna Re­treat Center near Indianapolis, Indiana. The selection of ACPA's 45th president (29th man) was re­ported at the Executive Council meeting on March 12, 1983, and the Business meeting three days later during the national convention in Houston. The May 1983 issue of ACPA Developments notified the general membership about his election in which a total of 1,900 ACPA members cast ballots. Bryan was 43 years old.
Vice President of Student Affairs (VPSA), Associate Profes­sor of Counseling and Guidance, and member of the Graduate Faculty at the University of North Dakota (UND) from March 1978 until December 1982, Bryan was formerly Dean of Student Development and Assis­tant Professor of Counseling and Guidance at UND from 1976-78. The Bryan family moved to North Carolina in 1983, when Bill accepted the position of Vice Chancellor for Student Affairs at the University of North Carolina, Wilmington (UNCW) (tenured Professor of Education, 1985). He assumed his tenured faculty position in 1996 and retired in 1998 (Emeritus Professor).
Born in Valdosta, Georgia, he lived in Pensacola, Florida, during most of his childhood and graduated from Pensacola High School in 1956. After enrolling at Baylor University for his freshman year, he transferred to Florida State University and graduated in 1960 with a B.S. degree (Social Science and History). At Indiana Uni­versity during 1960-61, he earned his M.S. degree in Guidance/Student Personnel (Higher Education). After working a year at Wisconsin State University, Whitewater, as Assistant Dean of Men (1961-62), he re­turned to Florida where he served the University of Florida as Residence Area Coordinator (1962-65), then Assistant Dean of Men (1965-66). Bryan was Assistant Dean of Students at Wofford College in South Carolina (1966-67) prior to beginning a doctoral program at The University of Wyoming (UW) where he was Hall Director for a year then Assistant Dean of Men (1968-69). He completed his Ed.D. (1970, Counselor Educa­tion/Student Personnel) while he was Director of Student Services for the College of Nursing (1969-71) at the University of Kentucky (UK). His dissertation was titled "A Study to Determine the Relative Effective­ness of a Developmental Reading Course in the College of Nursing at the University of Kentucky." For the next two years, he was Director of Student Services for the UK Medical Center and Associate Dean of Admissions and Student Personnel. He left UK in 1973 to accept the position of Associate Dean of Stu­dents at the University of Texas at Austin, be­fore assuming the Dean of Student Development position at UND.
An active member of ACPA since 1961, Bryan attended annual ACPA conventions from 1969-95 without missing a year. He presented programs at 17. Among his commission activities, he was a member of Commissions I, IV, XVI, and XVIII. With Commission I, Organization, Admini­stration and Development of Student Personnel Serv­ices, he was a member of the Directorate Body twice (1973-77, 1980-81) and chaired that commission during 1974-76. He was a Directorate Body member of Commission XVI, Learning Services in High Educa­tion during 1977, a member of the ACPA Executive Council Committee on Membership during 1977-80, the organizer of the North Dakota CPA during 1977-78 (first president), and was chairperson of the national Membership Committee during 1980-81. In his quest for people to assist him in finding new ACPA members, he utilized a telephone campaign to contact people in all 50 states and 3 countries and followed up on lapsed memberships. Bryan became a voting member of the ACPA Executive Council in 1981, when elected Vice President for State Divisions (1981-83).
As Vice President for State Divisions, his column, "News from the States," appeared regularly in ACPA Developments. At the mid-year Executive Council meeting in Erlanger, Kentucky in 1981, he distributed "Policies and Procedures for the Estab­lishment of a State Division of the American College Personnel Association," at which time a motion was passed to accept the policy on inactive status or dissolving a state charter and requiring all officers in State CPA's to belong to ACPA. Among his reports to the Executive Council at the 1982 national convention in Detroit, he stated that the State Division Presidents' Manual had undergone an extensive review process. During the Executive Council meeting for new and continuing members, a motion was passed that charged a com­mittee of State Division officers to review the ACPA bylaws and recommend changes regarding state divi­sion autonomy at the mid-year meeting in October 1982 at Indianapolis. At the Business meeting in Detroit, he reported that there were 32 active state divisions of ACPA.
During 1982-83, Bryan was a member of three ACPA committees: Nominations and Elections, ACPA/APGA Relations, and Budget Review. The next year, as president-elect, he continued as a member of the first two committees was a member of the Awards and Commendations Committee and Executive Council, worked to inaugurate the Senior Scholar program, and chaired the Bylaws and Budget Committees. Also, he became a member of the Executive Committee of the Executive Council after it was approved during the 1983 mid-year meet­ing in St. Louis.
At the mid-year Executive Council meeting in St. Louis (November 2-4, 1983), he was appointed to recommend a journal editor to succeed the current editor. Also, he presented a comprehensive bylaw report and submit­ted several action items for the Executive Council regarding ACPA state division and ACPA mission and goals with suggested AACD bylaws changes for state divisions. The latter were rejected by the AACD Senate in 1984 at Houston. He believed very strongly that ACPA should not allow AACD state branch associations to intrude on the affairs of the association's state divi­sions.
During the 1984 luncheon program in Baltimore, Bryan presented the incoming President's Address. His remarks, shaped by his many years as a practitio­ner in the profession, focused on issues confronting the association. Primary among those issues were roles individual members could take to share in ACPA's responsibility for professionals in the field.
At Baltimore, the Executive Council approved the concept of the establishment of a National Student Affairs Academy as proposed by NASPA as a joint effort to honor professionals who had distinguished them­selves as administrators and/or scholars in the field of student affairs.
In determining the 1985 Boston convention theme, Bryan worked actively with his program committee to select the theme, "Diversity: Our Foundation for the Future." As he views many of the concerns in society today, Bryan thinks the theme was a little ahead of its time.
Bill Bryan's "Presidential Challenge" was featured in the May 1984 issue of ACPA Developments, and his "Presidential Communiqué" columns appeared regu­larly in the newsletter. He considers the field of college student affairs work as "…the most crucial profession to higher education, playing a major role in the shaping of the campus environment."
During his presidency, Bryan served as a member of the Budget, Executive, External Relations, Fiscal Management, and Nominations and Elections Committees. The mid-year Executive Coun­cil meetings were held at St. Louis during October 31-November 2, 1984. It was reported that on September 10, CAS adopted 15 newly created and revised stan­dard statements. A Strategic Planning Committee was proposed by the Executive Council, and a recommen­dation regarding its establishment was to be made at the Boston convention. Three task groups were ap­pointed to explore membership, association diversity, and fiscal management needs. Among other actions taken, one keynote speaker for each annual conven­tion beginning in 1986 was to be from an ethnic minority group. At the close of 1984, ACPA member­ship totals were 7,290, the first annual increase since 1976!
Over 3,300 people attended the national ACPA convention held at Boston during March 24-27, 1985. The Marriott was convention headquarters. Programs and meetings were scheduled primarily in the Westin and Marriott Hotels with twelve pre-convention work­shops available for members' professional devel­opment. The 40th state division charter was issued to Arizona at the opening general session on Sunday, March 25. Marian Bryan attended the President's Reception with her husband. Bryan presided at the Busi­ness meeting on Tuesday, March 26 in the Westin pre­ceding the Luncheon in the America Ballroom.
ACPA's program portion of the AACD national convention in New York City on April 2-5 included 27 content sessions to fill the 38 time slots allotted to ACPA. Several others were recommended for roundtables at the Sheraton Centre.
During 1985-86, Bryan, as immediate past-president, chaired the Fiscal Management and Nominations and Elections Committees and was a member of the Ad Hoc Public Relations and ACPA/NASPA Joint Study Committees. Since serving as president, his involvements include Media Board (1987-1991), ACPA representative on the Inter-association Task Force on Campus Alcohol and Other Substance Issues (1988-89), Awards and Commendations Committee (1988-89), Special Committee on Organizational Relation­ship with AACD (1990-91), and ACPA Transition Team (1991-92). In 1993 President Charles Schroeder asked Bryan to spearhead the development of the ACPA Educational Leadership Foundation (Foundation). Bryan, designated an initial trustee in the Foundation Articles of Incorporation along with Charles Schroeder and Marvalene Hughes, worked with ACPA lawyers to complete the incorporation process (501c3) on April 29, 1994. He served as the first Foundation president (1994-96), and served two appointments as a Board member (1994-97, 2004-2008). Prior to his retirement, he was a member of the Journal of College Student Development Editorial Board (1997-98).
Bill Bryan is the author of many publications in­cluding 6 edited books, 20 book chapters, 11 journal articles and technical and research reports, and 3 book reviews. He has made presentations to groups including state legisla­tive committees, state college personnel associations, student affairs regional conferences and workshops, and professional associations (AAUA, ACPA, NASPA, AAHE, and AACD convention programs).
Bryan has received the following honors and awards: Tarheel of the Week (News & Observer, Raleigh, NC, Oct, 28, 1984), Honorary Lifetime Member of the North Dakota College Personnel Association (1985), Outstanding Professional Contribution Award (NCCPA, 1989), Melvene Draheim Hardee Award (SACSA, 1992), Elizabeth A. Greenleaf Distinguished Alumnus/a Award (IU, Department of College Student Personnel, 1993), Esther Lloyd-Jones Professional Service Award (ACPA, 1995), Distinguished Scholar Award (NCCPA, 1996), and ACPA Diamond Honoree (1999). In 1995 Bryan was the official ACPA Delegate to the Australia-New Zealand Student Services Association Conference in Hamilton, New Zealand. Also, in 1995, the UNCW Alumni Association and Center for Leadership Education and Service established the William A. Bryan Senior Leadership Award in his honor. This award is presented annually during UNCW's graduation ceremony.
He and his wife, Marian, who received her doctorate in 1990, are the proud parents of three grown children.